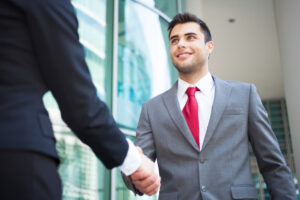 By: Lizz Chambers
It's a new year; a clean slate. Time to put those old myths about being a sales manager to bed. You are a 'sales leader', and that is the way you should be perceived by your hotel team.
Becoming a sales leader means having the vision to look beyond the status quo and the sales tactics that every other team is utilizing. Having been a hotel sales associate for most of my professional life, I have had to endure many misperceptions of what I actually contributed on a day-to-day basis. I found early on that there were ways to take such negative assumptions and turn them into actual teaching moments.
This has helped move my career light years beyond those who simply ignored such sentiments, feeling that they did not have to defend their position or differentiate their approach to business. So now, I pass ten nuggets of wisdom on to you so you overcome these 'urban legends'.
Salespersons only go to luncheons and meetings, and they don't actually work.
Oftentimes, there's a 'bubble' around the sales team within a large organization whereby members from other departments come to believe that salespersons only booze and schmooze with the after-work left to the 'real' employees. What is wrong with asking a team member to accompany you to a luncheon or a meeting? Introducing your executive housekeeper or guest service manager over lunch to a potential or a key account could be a very positive step towards building support for the concept of 'Everybody Sells'.
Your client may have questions on how his or her group will be handled by these key departments. Meeting the person responsible can help put their mind at ease. Moreover, such key personnel may help close the deal by conveying crucial details to the client, and deliver them with confidence!
Meetings such as CVB and Chamber Functions would be excellent opportunities for a team member to accompany you. Introduce a special housekeeper, maintenance supervisor or guest service person to people in your community. The salesperson will not be the only team member with which they interact when booking business with your hotel, and this will also help alleviate internal misconceptions.
Going to a conference is just an excuse for a mini-vacation.
When you return from a conference, hold a meeting with the staff and share all the valuable information you learned while away. Share all the workshops, general sessions and networking opportunities. Most of all, let your team members know how you can help contribute toward their success because you attended this worthwhile conference. Assign tasks to key team members, which will help you achieve the new objectives stemming from the conference.
Salespeople look down their noses at operations.
Take time to work alongside operations associates. When you have a large group checking in, after you greet your PIC get behind the desk and assist with check-in. It doesn't hurt when you have a large arrival to go back and talk with your housekeepers during the morning stand up and let them know how important their efforts are in making this group a success.
Next, create incentives for the 'Everybody Sells' mentality. Have lead sheets at the front desk for LNRs or group leads. Let housekeeping and the dining room know that any lead that results in a booking will be rewarded. Be sure to thank your team for every lead you receive and keep them informed of your progress in pursuing the lead they gave you.
They promise their groups the world and we have to deliver.
First of all, explain it is as 'our' group. It is the responsibility of the entire team to make the group a success and make it a repeat booking. You only sell it the first time. Your team gets them back.
Always complete a detailed group résumé, no matter how small the group. Hold a Precon whenever possible and introduce your contact to the key staff members who will be responsible for delivering the service the client expects. Discuss the details and make sure everyone is clear on their responsibilities and feels comfortable with what has been promised.
If a Precon is out of the question, be there when your group checks in. Greet your PIC and introduce them to as many staff members as possible. Let your contact know that you are the one ultimately responsible and make sure your team members know that you are all in this together.
They want to give away our rooms to the lowest bidder. That isn't selling; that's giving!
Many times group leaders need extra incentives to stay with a particular hotel. Let your hotel team know the reasoning behind such comps. Make it clear that you will only give a complimentary room to a guest in order to convince the client and make him or her feel welcome. And of course, a successful comp means a loyal guest/group in the future.
Meet with your key department heads and discuss new business. Explain the process in which you arrived at the rate quoted. Let your associates know the total potential of the group and share with them your displacement analysis. That way they know you did your homework. Remember that the rate you are offering and the logic behind it are not trade secrets. Treat this as a learning opportunity for your staff. The more you take the mystery out of the sales process, the more respect you will gain.
When they make mistakes with a group, we have to take the blame.
You must simply own up to any mistakes made. Take responsibility and fix it fast. Of course, you will do your best to communicate with your client the same information conveyed to your hotel team, but there will always be the odd time that things slip through the cracks.
Be available to your contacts during their stay, correct any errors immediately and 'wow' them with your solution. Show your hotel team that you are solution-oriented. Be the example on how to take control of a situation and make it right. Afterwards, do not shy away from the fact that it happened. During the wrap-up at the next staff meeting, bring up what went wrong and why as well as what you did to correct it. This will go a long way in the respect department. Always remember that to place blame is to give away your power.
They're nine-to-five, Monday through Friday while we're 24/7. And who makes the money? Not Us!
A true sales person never stops working! You should be there on property to meet that Friday night or Saturday group arrival as well as to make sure that the banquet you sold goes off without a hithc. You do not have to stay for the entire event but you should be visible and introduce the PIC to the key people on the weekend shifts. Let the weekend or evening team know that you trust them to take care of the client.
During staff meetings, discuss the fact that you continue to sell even when you aren't at work. Report out on the company names you wrote down off the side of a truck on the interstate, during your drive through of the competitions' parking lots or even if a conversation is overheard while eating with your family at a restaurant. Discuss what you learned while reading the newspaper, watching TV or surfing the web. Let them know that you are always looking for leads and have that constant urge to get that new business in town at 'our' hotel. Encourage them to do the same…Everybody Sells!
It's all about sales. But without us, who would take care of their groups?
Once again, it is 'our' groups. Yes, many times when a big group is booked, the sales team gets the spotlight. It is up to you as a sales leader to refocus that praise on the ones who are going to render the sale into a decades-long relationship. You may even highlight a particular team member who went above and beyond during your site inspection with the client that helped you make the sale. Make them 'Sales Team Member of the Week' with some special incentive. Let your team know that it is not all about you and that you can do nothing without them.
You have to convince the client to buy, but you are only doing that because you believe in your property and your hotel team members. If not, you would not be very convincing or passionate about your product. Let your team members know that fact every chance you get. Everyone that works in the hotel is a salesperson in his or her own right.
Why should I show around an after-hours sales lead? I'll never get the credit if they book.
You should establish an 'Everybody Sells' program at your hotel. This program allows all team members to get credit for sales efforts. You cannot be at the hotel 24/7, so you need the help of your teammates to take care of prospective clients when you are not present. Include them in the lead process and keep them up-to-date of the results of that lead. Celebrate each and every lead, rewarding each and every booking. Before long, every member of your hotel team will feel like they are truly members of your sales team.
When they are out on so-called appointments, sometimes they come back with a new haircut, perfect nails or a couple of shopping bags.
This one is difficult. First of all, be aware of the message you are sending when you schedule personal errands during times when you are off-property, knowing that your team members do not have that freedom. We all know that our clients go to lunch and during that time (unless there is luncheon scheduled with the client) it is difficult to schedule office appointments. If we go back to the hotel we may get 'stuck' and there goes the rest of the afternoon. So we may use that time to schedule a personal appointment over our 'lunch hour'.
When you absolutely must schedule personal errands during 'selling time', be up front about it. Put the personal appointment on your sales calendar. Talk to associates about why it was necessary and report out on the wonderful appointments you did schedule as well as the results of each.
I hope these ten sales myths do not offend anyone but I must tell you that I've heard each of these statements many times over the course of my career. It is time that we, as sales professionals, put things right!
Originally published in Hotel Executive on February 21, 2016.