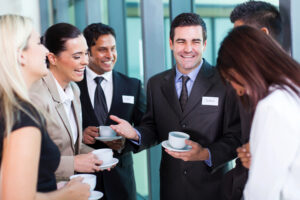 By: Lizz Chambers
You show up at 8am for a training workshop, dreading it all week. Right as you are about to step inside, you stop and the question pops into your mind, "Why am I here? Will this be worth my ever-so-fleeting time? And if they make me play games, I think I may be forced to commit hara-kiri." Does this sound even remotely familiar?
Games do not have to be painful or embarrassing. Some games, such as bouncing a beach ball, everyone standing on a sheet and turning it over without anyone leaving the sheet, lining up according to shoe size and everything in between have their place. We've been through them all.
Now, please do not misinterpret my meaning. I am all about putting the fun back into training. However, we should not have to always reach to find the hidden meaning behind said fun. The majority of games played in a classroom setting should be games designed to engage attendees, improve performance or behavior on the job and increase retention of the material covered. In other words, design the fun to be directly applicable on the job.
During Newport Hospitality Group's annual general meetings, we always bring in an outside trainer. One year our presenter was game obsessed. While we are all a bit too familiar with the woes of 'Death by PowerPoint', we quickly realized during this conference that there can also be death by games.
In one particular game, all of our general managers were bouncing a beach ball. To all of you trainers out there who use this game, I am sure there is a legitimate point, but it's probably lost in all the mixed metaphors. After we bounced around the ball for a while, the game ended and the trainer conducted a debriefing.
To be perfectly honest, I don't remember the point. We were then asked the question, "What did you learn from this exercise?" To my amazement, this one beautiful, outspoken, and long-time GM responded (and I'm paraphrasing here for the sake of decorum, "Not a single blessed thing!"
That is when the light came on in my head. Why should our trainees have to search for the hidden meaning behind the game? If they are attending a conference in order to learn something, then, as trainers, don't we owe it to our participants to tailor the games to the message and make that message as clear as possible. How can trainees be totally engaged if the meaning is lost in some abstract interpretation?
I must admit, though, that I do incorporate a few abstract games into my workshops, including the Gordian Knot (to emphasize there may not always be a solution), a Hula-Hoop Game (used to promote teamwork) and a game using tennis balls (used to make a point about how complicated it may be to apply training when back on the job).
However, as a trainer, I had a dream of a special game that would allow me to introduce content, preview material and review content while completely engaging every trainee. This is in fact no longer a dream thanks to Game Show Pro, a powerful software tool used to create and play Hollywood-style game shows. And if you opt to purchase this, do not forget the wireless buzzers; they are worth the investment.
In this interactive platform, each game show is tailored to the material covered during the workshop. Our associates rave about Game Show Pro and really connect with the competition and the fun it brings to training. Believe me, there is nothing better to get the adrenaline going! As a major plus, trainees' information retention and attention levels soar when playing the game shows. If you would like more information you can check out www.learningware.com.
So, to get back on track and to incorporate the above shout out, the five most popular games we at Newport Hospitality Group use in a classroom setting are:
Game Show Pro

Although many games in this software suite are popular, 'The Final Answer' at present is the all-time favorite.
Trainees also prefer to play in teams. Putting individuals on the spot, I have found, is frequently counterproductive.
We also team different departments and associates who generally do not work together to promote teamwork.

Call the Competition

These calls are conducted after a front office training or sales class. The attendees seem to always volunteer to stay later than scheduled in order to call as many of the competition as possible. It is a thrill for them to compare our 'Excellence' to our competitions' 'Mediocrity'.
A volunteer from the class conducts the mystery call on a special speaker phone. When the call is perfect (decided upon by a silent thumbs up from the group), the mystery caller tells the hotel associate that someone would like to speak with them and the next voice the associate hears is mine! I have a very distinct Southern accent and my voice is immediately recognizable with the result being a celebration on the both ends of the call.
The attendees end up cheering for the associate called and the associate called is celebrating because they know a special thanks from the corporate office along with a substantial monetary reward will be in the mail the next day.
The trainees leave knowing that any one of them may be the next recipient of a classroom mystery call and a monetary award could be coming their way.

Name That Tune

A popular game for after an orientation, this one starts with a bell being placed in the middle of the room and each team selecting a runner.
Theme songs from various sitcoms are then played and the first group to recognize the show sends their runner to ring the bell.
The runner from the team ringing the bell first gets the first opportunity to answer a question from the orientation.
The runners get a lot of exercise while their team members cheer them on.

Brainstorming Sessions

Not a game in the true since of the word, but the ideas generated from many of these workshops have been used throughout our hotels.
Although not set up as a competition, participants usually turn it into one with each group trying to generate more ideas than the next.

Role Play

Believe it or not, if role plays are properly structured, they can not only be fun, but they can also assist associates into taking the knowledge gained in a classroom setting and make it immediately applicable to their jobs.
Generally, everyone wants an opportunity to play the guest. Chalk this one up to the hospitality spirit in all of us!
Games used properly can engage, energize, motivate and assist your team in retaining knowledge that may be fleeting without on-the-spot reinforcement. In this sense, they can help save your managers time in terms of retraining while in the hotel or direct supervision. So by all means, use games wisely and associates will begin to look forward to training workshops and walk away with more than you both expected!