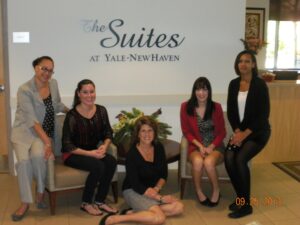 By: Lizz Chambers
The Suites at Yale-New Haven is a very special place.  Boasting 24 suites equipped with full kitchens along with cooking and dining essentials.  Located just two blocks from the Yale-New Haven Hospital they offer a special service for patients and families.  The staff is one of the smallest that NHG employs.  General Manager, Marie Roberts and three front office associates Meagan Malave, Rebekah Jeanette and Nicole Rodriguez keep this hotel running.
The motto of the staff is: "Too often we underestimate the power of a touch, a smile, a kind word, a listening ear, an honest compliment, or the smallest act of caring, all of which have potential to turn a life around."
People stay here for a variety of reasons.  Some accompany loved ones going through treatment for cancer, organ transplants, cardiac issues and for the birth of a child.  Many recover and new lives are welcomed to the world and tears of joy are shed.  Some moments are not as happy and again tears are shed.  The primary attributes of The Suite associates consists of compassion and a caring heart.  The letters from patients and families of patients about the wonderful treatment they received from our staff are numerous.
As I am writing this I am overhearing a lady at the front desk in tears because a loved one was recovering and just took a turn for the worst.  Marie is consoling her and offering assistance.  My heart aches for her.  It takes special people to work here.
Recently this small staff of four associates felt that not enough people at the hospital knew about their unique little all suite hotel.  They were afraid that many times patients and families may be unaware of a convenient all suite alternative to a typical hotel room.  Each associate hired for The Suites at Yale-New Haven is selected for their unique ability to not only run a business but for their compassion, caring hearts and the extraordinary ability to listen…really listen to what their guests have to say. This small staff just recently reached out and touched one hundred (100) departments at Yale-New Haven Hospital to offer their services.
So the next time you feel you just cannot do it all… Remember: The Little Hotel with the Big Heart! The Suites at Yale New Haven!